In the weird world that is the current real estate market, East Providence showed a record drop in unit sales along with a nice bump in sale prices for the month of May. Unit sales dropped 42% from 55 units last year to 32 this year. the median sales price rose, however by close to 8% jumping from $240,000 last year to $258,750 this year, the highest median home price for May over the last ten years. So, what's going on?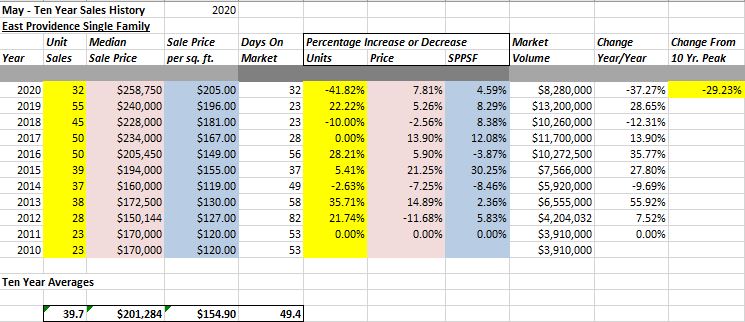 There are more than a few factors at work here including the pandemics impact on the already strained housing supply. The rate of properties coming on the market this Spring have slowed to a crawl, and the buying pool of potential homebuyers has only been mildly impacted by the layoffs caused by pandemic lockdown policies. Factor in historically low interest rates and a still healthy financial system and you have a supply and demand dynamic that is heavily tilted toward the seller.

The bottom line, as reticent as potential home sellers may be to place their home on the market, there's no better time than right now.
Contact me if you would like to know how the current market is impacting the value of your property. You may be pleasantly surprised.