A quick narration of the April home selling market in East Providence goes like this… " prices up, sales down, inventory hollow." We are definitely living in strange times and it's impacted the housing market in strange ways.
The median sales price reached a plateau never seen before in the month of April coming in at $270,000, besting the record set 15 years ago in April 2005 of $256,500. The median sale price jumped over 12% year over year amidst this pandemic which in itself is quite remarkable.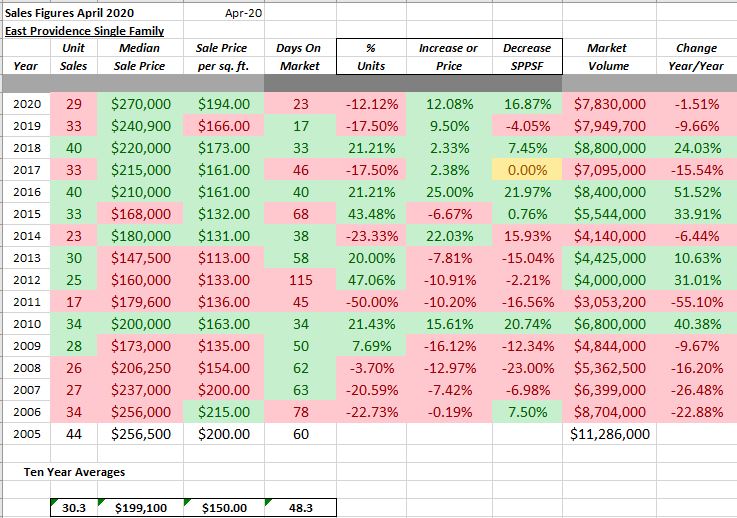 Unit sales dropped from 33 to 29 from last April which marks the 3rd straight year that sales have dipped year over year. Market volume was about the same as the previous year, only dropping 1.5% from last year.
The big story however is the lack of inventory potential buyers have to choose from. Although buyer activity is slightly off during this pandemic, listing activity has fallen off a cliff, as we're seeing only 1 or 2 new listings a day. Generally during the month of April in East Providence, we would see new listings enter the market at a clip of 7 to 10 a day. Currently there are only 33 active listings for single family homes in EP which is the lowest static amount I can remember in my 30 year career.
So much like toilet paper early in this pandemic, demand is high and supply is nonexistent, which in turn is driving up prices. What the future holds is largely dependent on the course the virus takes, and how sellers and buyers react to it. But at the moment, if you're looking to maximize your homes value proposition on the market, there's never been a better time than right now.
Joe Botelho